Posts for: June, 2013
By James E. Eash, D.D.S.
June 26, 2013
If a glance in the mirror reveals stained or discolored teeth that are detracting from your self-confidence, it's time to do something about it. The first step is to make an appointment for an office visit to find out how we can help you.
External (extrinsic) stains that form on the surfaces of teeth are usually caused by beverages such as red wine, tea, coffee as well as unhealthy habits like tobacco use. Extrinsic stains generally come in shades of browns, black or grays, but may even be orange or green from color producing bacteria.
Internal (intrinsic) stains are part of the structure of the tooth and cannot be removed by polishing. Among their causes are excessive fluoride levels or tetracycline antibiotics given in childhood and during tooth formation. Teeth do become more yellow and discolored as we age. Discoloration of individual teeth may be indicative of tooth decay, or teeth that have had root canal treatment and have literally lost their vitality tend to darken over time. Internal discoloration comes in a variety of shades and hues from yellows, grays, browns, and even some reds or pink.
Five Ways to lighten, whiten and brighten stained or discolored teeth
Change your habits. Reduce or stop consuming or using foods, drinks or tobacco if they are staining your teeth.
Improve your daily oral hygiene. Make sure to brush your teeth well, twice a day. Change to a toothpaste that contains a mild abrasive. Some toothpastes also contain tooth whiteners.
Visit our office for a professional cleaning and polish. Routine scaling and polishing will remove most superficial external stain and discoloration. Sometimes ultrasonic cleaning (by high frequency vibration) and polishing with slightly abrasive pastes may just do the trick.
Treatment for internal stain and discoloration. Brown colored decaying teeth need to have the decay removed and the teeth restored. Stained old and leaking fillings may also need to be replaced.
Tooth whitening by bleaching. Bleaching or tooth whitening is a safe and effective way to brighten stained teeth. Internal tooth bleaching can whiten even discolored root canal treated teeth. Ask us for more information about this technique.
If your mirror tells you that your smile needs attention, there's no time like the present to get started. Get back your bright, white smile and your self-confidence as well.
Contact us today to schedule an appointment to discuss your questions about tooth staining and its treatments. You can also learn more by reading the Dear Doctor magazine article "Tooth Staining."
By James E. Eash, D.D.S.
June 13, 2013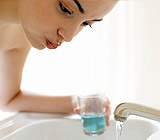 There are dozens of brands of mouthwashes and rinses on drugstore shelves that American consumers buy each year for clean breath and oral health. But the question is do they really work?
To properly answer that, you should first know that mouth rinses fall into two general categories: cosmetic and therapeutic. A cosmetic rinse can give you a temporary "clean" feeling in the mouth (usually masking bad breath with a more pleasant smell) but in the long run doesn't contribute to better oral health. On the other hand, therapeutic rinses do enhance oral health; they contain one or more ingredients that can help prevent the development of tooth decay and/or inhibit bacterial growth.
Although some therapeutic rinses are prescribed by dentists, many are available over-the-counter (OTC). Decay-fighting rinses usually contain sodium fluoride, which has been amply demonstrated to strengthen the surface of teeth and thus inhibit tooth decay and the likelihood of new cavity development — but only when used in combination with good hygiene practices. Anti-bacterial rinses contain ingredients such as triclosan, zinc or essential oils like menthol that reduce the level of bacteria in plaque (when also coupled with good oral hygiene). This also helps reduce the growth of decay.
For some patients a prescription rinse may be in order, especially during recuperation from oral surgery or where normal plaque control is difficult. The most common rinse contains chlorhexidine, a chemical that prevents bacteria from sticking to the teeth. The effectiveness of chlorhexidine, especially in helping to control gingivitis (inflammation of the gums) and preventing tooth decay, is well-documented after many years of research and use. While it may cause teeth staining in some patients, the staining can be alleviated by ultrasonic scaling or polishing.
So then, should you incorporate a mouth rinse into your daily hygiene regimen, and if so, what kind? That will depend on your own individual oral health needs, which we can advise you on. Knowing what your own needs are and the different kinds of mouth rinses and what they are designed to do, you can make an informed choice.
If you would like more information on the use of mouthwashes or rinses, please contact us or schedule an appointment for a consultation. You can also learn more about this topic by reading the Dear Doctor magazine article "Mouthrinses."