Posts for: January, 2019
By James E. Eash, D.D.S.
January 15, 2019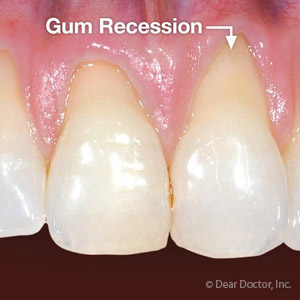 Although your smile wouldn't be the same without them, there's more to your gums than their looks. Besides helping to hold your teeth in place, they're also an important protective barrier for their roots.
Unfortunately, gums aren't immune to disease, especially periodontal (gum) disease. This bacterial infection, triggered by built-up dental plaque on teeth due to insufficient oral hygiene, can cause the gum tissues to detach from teeth and shrink back (recede). This can make your teeth more sensitive to hot or cold foods and beverages, as well as put them at even greater risk for tooth decay.
To treat gum recession, our first priority is to stop any ongoing gum disease through aggressive plaque removal. Depending on severity, this could require clinical procedures like scaling or root planing to remove plaque and tartar (hardened plaque deposits) at or below the gum line. This is especially crucial for improving gum tissue healing and stimulating potential reattachment.
Revitalizing gum tissues this way naturally has a better chance of occurring if we're able to prevent recession before it reaches the roots. If that does happen and we have sufficient gum tissue attachment remaining, we may need to give the gum tissue a helping hand through gum grafting surgery. There are a number of techniques depending on the circumstances, but they all use either tissue from another location in the patient's mouth or prepared tissue from another human donor. This type of surgery requires great skill and expertise, not to mention an aesthetic sense, to achieve a result that's both functional and attractive.
Other than daily brushing and flossing, the most important thing you can do for gum health is to see us as soon as you notice any signs of gum problems like swelling, bleeding or tooth sensitivity. The sooner we can diagnose and begin treating the problem, the less likely any gum recession will have a long-term impact on your health.
If you would like more information on gum health, please contact us or schedule an appointment for a consultation. You can also learn more about this topic by reading the Dear Doctor magazine article "Gum Recession."
By James E. Eash, D.D.S.
January 05, 2019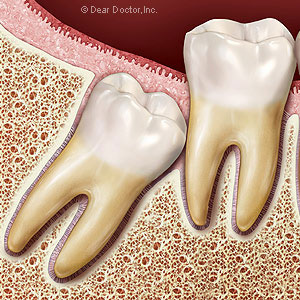 As permanent teeth gradually replace primary ("baby") teeth, most will come in by early adolescence. But the back third molars—the wisdom teeth—are often the last to the party, usually erupting between ages 18 and 24, and the source of possible problems.
This is because the wisdom teeth often erupt on an already crowded jaw populated by other teeth. As a result, they can be impacted, meaning they may erupt partially or not at all and remain largely below the gum surface.
An impacted tooth can impinge on its neighboring teeth and damage their roots or disrupt their protective gum attachment, all of which makes them more susceptible to tooth decay or periodontal (gum) disease. Impacted teeth can also foster the formation of infected cysts that create areas of bone loss or painful infections in the gums of other teeth.
Even when symptoms like these aren't present, many dentists recommend removing the wisdom teeth as a preemptive measure against future problems or disease. This often requires a surgical extraction: in fact, wisdom teeth removal is the most common oral surgical procedure.
But now there's a growing consensus among dentists that removing or not removing wisdom teeth should depend on an individual's unique circumstances. Patients who are having adverse oral health effects from impacted wisdom teeth should consider removing them, especially if they've already encountered dental disease. But the extraction decision isn't as easy for patients with no current signs of either impaction or disease. That doesn't mean their situation won't change in the future.
One way to manage all these potentialities is a strategy called active surveillance. With this approach, patient and dentist keep a close eye on wisdom teeth development and possible signs of impaction or disease. Most dentists recommend carefully examining the wisdom teeth (including diagnostic x-rays and other imaging) every 24 months.
Following this strategy doesn't mean the patient won't eventually have their wisdom teeth removed, but not until there are clearer signs of trouble. But whatever the outcome might be, dealing properly with wisdom teeth is a high priority for preventing future oral health problems.
If you would like more information on wisdom teeth and their potential impact on dental health, please contact us or schedule an appointment for a consultation. You can also learn more about this topic by reading the Dear Doctor magazine article "Wisdom Teeth: Coming of Age May Come with a Dilemma."