Posts for: April, 2019
By James E. Eash, D.D.S.
April 15, 2019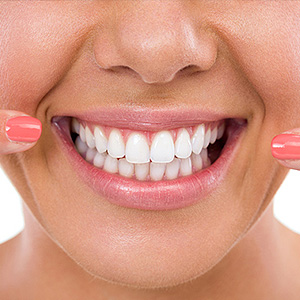 Are you tired of those stained, chipped, slightly crooked or—in a word—unattractive teeth? We have an effective solution for you: cover them with life-like porcelain veneers.
As the name implies, a veneer is a thin layer of dental porcelain custom-made to match your tooth's shape and color and permanently bonded to the outside enamel. With its translucent, light-reflective quality similar to tooth enamel, dental porcelain looks completely natural. Veneers are well suited for minor to moderate imperfections, and can even be used to correct slight gaps between teeth.
We begin the process by performing a comprehensive dental exam to begin planning the exact shape and color of your new veneers. We can now do much of this planning with computer imaging, which may also give you the chance to see how your veneers will look on you after treatment.
We often will also need to prepare the teeth to accommodate the veneers when we bond them. Although the alterations shouldn't be anywhere near as extensive as with a porcelain crown, we will still often need to remove some of the enamel layer so the veneer won't look bulky. Even though we'll remove as little as possible, if needed it will still permanently alter your teeth—so they'll require some form of restoration from then on.
Once we've prepared the teeth, it's then time to create the veneers. This is typically done by a dental laboratory technician through a manual process that may take several weeks. Increasingly, though, equipped dental offices are now able to generate their veneers in-house with computer-aided design/computer-aided manufacture (CAD/CAM) milling technology.
Once the veneers are ready, they're bonded securely to the teeth with a detailed process that helps ensure they'll endure biting and chewing forces for a long time. Still, you'll need to avoid biting into hard objects or using your teeth for such things as cracking nuts. If you have a clenching or grinding habit, we may also recommend you wear a night guard to prevent excessive forces against not just your veneers but your teeth as well.
By taking good care of them, your new veneers can give you many years of service. Most of all, they can transform your embarrassing appearance into a smile you're proud to show.
If you would like more information on porcelain veneers, please contact us or schedule an appointment for a consultation. You can also learn more about this topic by reading the Dear Doctor magazine article "Porcelain Veneers."
By James E. Eash, D.D.S.
April 05, 2019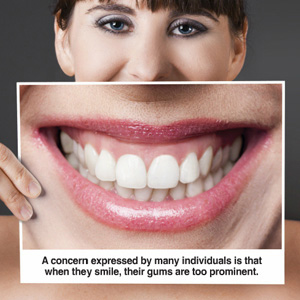 A beautiful smile is a balanced smile, especially in regard to your gums. A normal smile usually shows 4 mm or less of gum tissue along with about 10 mm of tooth length. But if your gums show more than that, your smile may seem too gummy. In terms of perceived balance, this could detract from your smile's attractiveness.
Fortunately, you don't have to live with a gummy smile—there are various ways to correct or minimize its effect. First, though, we'll need to determine the underlying cause before deciding on the best treatment. And, there are several possible causes, the obvious being too much gum tissue present. Teeth that appear shorter due to wear or incomplete eruption could also make the gums appear larger.
We may be able to correct these size problems by surgically removing and reshaping excess gum tissues and possibly the underlying bone to reveal more of the teeth. We can also bond composite resins or porcelain veneers to shorter teeth to make them appear larger.
But not all gummy smile problems pertain directly to the teeth and gums; instead, it could be your upper lip moves too far up as you smile (hypermobility). Or, your upper jaw may be too long for your face, which can also cause too much of the gums to show during smiling.
With upper lip hypermobility, we may be able to inhibit the lip muscles' movement temporarily with Botox injections that partially paralyze the muscles (the effect eventually wears off, so this treatment will need to be repeated). A periodontist, an oral surgeon, or a plastic surgeon could also permanently alter the upper lip movement through a surgical procedure. Surgery may also be necessary for an abnormally long upper jaw: orthognathic surgery re-positions the jaw to the skull, which can lessen the amount of gums showing.
If your smile is too gummy, we can transform it. But first, let's find out what the real cause is with a comprehensive dental examination. Once we know, we can better advise you on the best way to bring beautiful balance to your smile.
If you would like more information on improving a gummy smile, please contact us or schedule an appointment for a consultation. You can also learn more about this topic by reading the Dear Doctor magazine article "Gummy Smiles."