Posts for tag: bad breath
By James E. Eash, D.D.S.
May 30, 2014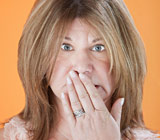 Q: I often seem to have noticeably bad breath — not just in the morning. How unusual is this problem?
A: Persistent bad breath, or halitosis, is a very common complaint that is thought to affect millions of people, including perhaps 25 to 50 percent of middle aged and older adults. It's the driving force behind the market for breath mints and mouth rinses, with an estimated value of $3 billion annually. It's also the third most frequent reason people give for seeing the dentist (after tooth decay and gum disease). So if you have bad breath, you're hardly alone.
Q: Can bad breath come from somewhere other than the mouth?
A: Most of the time, bad breath does originate in the mouth; its characteristic smell is often caused by volatile sulfur compounds (VSCs), which have a foul odor. However, it can also come from the nose, possibly as a result of a sinus infection or a foreign body. In some cases, pus from the tonsils can cause halitosis. There are also a few diseases which sometimes give your breath an unpleasant odor.
Q: What exactly causes the mouth to smell bad?
A: In a word: bacteria. Millions of these microorganisms (some of which are harmful, and some helpful) coat the lining of the mouth and the tongue. They thrive on tiny food particles, remnants of dead skin cells, and other material. When they aren't kept under control with good oral hygiene — or when they begin multiplying in inaccessible areas, like the back of the tongue or under the gums — they may start releasing the smells of decaying matter.
Other issues can also contribute to a malodorous mouth. These include personal habits (such as tobacco and alcohol use), consumption of strong-smelling foods (onions and cheese, for example), and medical conditions, like persistent dry mouth (xerostomia).
Q: What can I do about my bad breath?
A: Those breath mints are really just a cover-up. Your best bet is to come in to the dental office for an examination. We have several ways of finding out exactly what's causing your bad breath, and then treating it. Depending on what's best for your individual situation, we may offer oral hygiene instruction, a professional cleaning, or treatment for gum disease or tooth decay. Bad breath can be an embarrassing problem — but we can help you breathe easier.
By James E. Eash, D.D.S.
May 30, 2013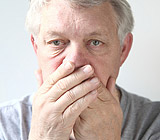 Halitosis (bad breath) is a major personal and social concern — so much so that Americans spend nearly $3 billion annually on rinses, mints and gum to freshen breath. While helpful in alleviating occasional bad breath caused by oral dryness (brought on by stress, eating certain foods, prescription medications, smoking or consuming alcohol), those with chronic halitosis require a much different treatment approach.
That's because there are a number of possible causes for chronic halitosis, among them: xerostomia (chronic dry mouth), caused by mouth breathing; periodontal (gum) disease; or candidiasis, a yeast infection caused by some antibiotics. It may also arise as a secondary symptom of systemic diseases like liver disease, diabetes or cancer.
The most common cause, though, is bacteria. Many types of oral bacteria can produce terrible odors, most notably volatile sulphur compounds (VSCs) with their "rotten egg" smell. Because of its relative dryness and difficulty in cleaning, the back of the tongue is a wonderful environment for bacteria to multiply and thrive.
If you suffer from chronic halitosis, our primary objective then is to try to uncover its specific cause, which will determine what course of treatment we would recommend. First, what is your experience with halitosis — have others noticed it or just you? Next, we would consider your medical history — have you had any health issues with your ears, nose or throat, or experienced any gastrointestinal disorders or lung problems? What kind of medications do you take, and are your kidneys and liver functioning properly? We would also perform a thorough dental exam for any signs of tooth decay, gum disease or a dry, coated tongue as well as look at your diet and lifestyle choices, like smoking or alcohol use.
Having a better idea of what may be causing your bad breath, we can then tailor a treatment plan that might involve, among other things, treatment for tooth decay, a periodontal cleaning (scaling), instruction on better oral hygiene and tongue cleaning with a scraper or brush, or the removal of third molars where debris may be accumulating in the gum flaps.
Finding the cause of bad breath can take time, but is well worth the effort. The end result is a treatment plan that works.
If you would like more information on understanding and treating chronic halitosis, please contact us or schedule an appointment for a consultation. You can also learn more about this topic by reading the Dear Doctor magazine article "Bad Breath: More than just embarrassing."