Posts for tag: bonding
By James E. Eash, D.D.S.
February 03, 2015
Accidents can happen to your mouth, especially if you have an active lifestyle. For example, a sudden blow to the jaw while playing sports or exercising could result in a chipped tooth. And, while the internal tooth structure may be fine, the effect on your appearance can be disheartening.
Fortunately, we have techniques and materials to restore your smile after an injury. Bonding with composite resin is one such procedure: it's ideal for mild to moderate chipping, especially in highly visible front teeth.
Composite resin is a dental material made of various substances mixed to match the color and texture of natural teeth. The composite is usually made of inorganic glass filler blended with a plastic-based matrix and joined together with a chemical "coupling" agent. The ratio of filler to matrix will depend on the type of tooth and damage — for example, back teeth, which encounter higher biting forces, require a composite with more filler for added strength.
To begin the procedure, we first prepare the damaged tooth by applying microscopic etchings (often with a chemical solution) that create tiny depressions or "undercuts": these help create a seamless bond between the composite and the natural tooth. We then apply the composite in layers with a bonding agent, building up layer upon layer until we've achieved the desired shape for the tooth involved.
Bonding with composite resins doesn't require much tooth preparation, can be placed quickly and is relatively inexpensive. Because of the wide spectrum of color possibilities, composite resins are superior to traditional amalgam (metal) restorations in creating a more life-like appearance. Its application, however, can be limited by the amount of tooth structure needing to be replaced: because it isn't as strong as the tooth structure it replaces, the more tooth structure the bonded composite resin attempts to replace the less likely it can stand up over time to normal bite forces.
Still, composite resins are ideal for mild to moderate damage or disfigurement. If you've suffered such an injury, be sure to visit us to see if bonding with life-like composites is the right solution for restoring your smile.
If you would like more information on bonding with composite resins, please contact us or schedule an appointment for a consultation. You can also learn more about this topic by reading the Dear Doctor magazine article "Repairing Chipped Teeth."
By James E. Eash, D.D.S.
April 20, 2013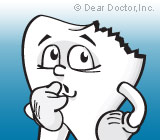 Your son has fallen and hit his face against a hard surface. Not only is he in pain but now there is also a chip missing from his front tooth. He is worried that his smile will never be the same. What should you do?
Answer: If you can find that missing chip, sometimes we can bond the fragment back on to the tooth. The tooth should be evaluated and repaired as soon as possible, although in the absence of other signs and symptoms of injury, and if your child is not in acute pain, it can probably wait up to 12 hours.
If the fragment can't be found, then the tooth can be restored with tooth-colored filling materials, which are also physically bonded to the natural tooth. Done well, these "composite resin" fillings can last for years and look perfectly natural. They may eventually need to be replaced with something more permanent.
If the chipped tooth is a child's primary (baby) tooth rather than a permanent (adult) tooth, the treatment will be similar.
However, a blow to a tooth can cause damage to the pulp — the living tissue within the tooth, which can become infected and die. If the damage to a primary tooth is too extensive it may be better to remove it to avoid damage to an underlying and developing permanent tooth. A place-holding appliance called a space maintainer may be used. If it is a permanent tooth it may need root canal treatment.
If a tooth is not chipped but is loosened or tender to the touch, it may require temporary stabilization, called splinting, until it has healed. Sometimes no treatment is required. If there has been a fracture to the tooth's root (the part below the gum line) it may heal by itself, or it may require further treatment especially if it is a permanent tooth, depending on the individual situation.
It is important to evaluate teeth that have been hit or damaged as a result of injury to ensure that they remain healthy and functional. We will keep track of the tooth or teeth, with observation, x-rays when necessary and monitoring over time to make sure no permanent damage has been done.
Contact us today to schedule an appointment or to discuss your questions about repairing a chipped tooth. You can also learn more by reading the Dear Doctor magazine article "The Field-Side Guide to Dental Injuries."