Posts for tag: braces
By James E. Eash, D.D.S.
July 20, 2015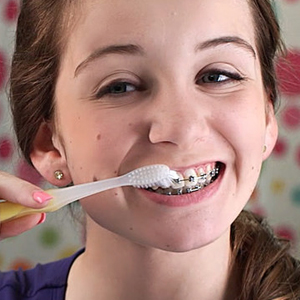 While braces are a tried and true method for achieving a more attractive smile, they may also give rise to problems with dental disease. This is because their hardware — the brackets and bands that serve as tracks for the tensioning wires — make it more difficult to access the tooth and gum surfaces to clean away plaque. This thin film of food remnant may then become a haven for bacteria that cause gum disease or tooth decay.
One of the more common conditions to occur while wearing braces is gingivitis. This is an initial inflammation of the gum tissues caused by bacterial plaque that hasn't been removed by brushing or flossing. As the inflammation grows unchecked, the infection could advance deeper into the tissues to become a more serious form of gum disease that threatens the survival of affected teeth.
Difficult as it may be for those wearing braces, the best way to avoid gingivitis is through more thorough oral hygiene practices. Fortunately, there are many hygiene products that can help you get around many of the access difficulties posed by braces. Smaller toothbrushes known as interproximal brushes and floss threaders, small aids that thread dental floss under braces wires, can access the spaces between teeth more readily than conventional brushes or floss. Water flossers (which use water under pressure to remove plaque between teeth) and motorized toothbrushes can further increase efficiency. We can also reduce bacterial growth in the mouth if need be with prescription-strength antibacterial mouthrinses.
If, however, gingivitis or gum overgrowth (another common occurrence during orthodontic treatment) continues to be a problem, we may need to take other actions including surgery. In extreme cases, the braces may need to be removed to adequately treat the gums and allow them time to heal before proceeding with orthodontics.
Extra care with daily hygiene and regular dental checkups and cleanings in addition to your orthodontic visits will help keep gum problems at bay while you're wearing braces. Taking this extra care will stop or minimize the effect of disease as you continue on to the ultimate goal of your orthodontic treatment — a more beautiful smile.
If you would like more information on dental care during orthodontic treatment, please contact us or schedule an appointment for a consultation.
By James E. Eash, D.D.S.
June 18, 2014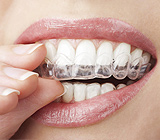 Metal braces for correcting teeth alignment have long been a fixture of adolescence. But although they're effective, they tend to put a crimp on a teenager's life with changes in diet and irritation and discomfort from the devices and regular adjustments. For many teens, though, these are minor compared to the change in their appearance that comes with traditional braces, and the embarrassment they may feel.
In recent years, there's been a growing use of another orthodontic device that reduces many of these inconveniences, especially regarding appearance. Known as the clear aligner, this transparent, "almost invisible" device can be taken out for eating, cleaning or important social events.
Clear aligners are a sequential set of clear trays made of polyurethane plastic that are generated for an individual patient using information derived from x-rays, photographs or models. Each tray in the sequence is slightly different from the previous one to account for the tooth movement achieved wearing the previous tray. The patient will wear a tray for about two weeks and then, if all looks well, move to the next tray. This process continues until the teeth arrive at the proper alignment, a period of about six to twenty-four months depending on the patient's initial condition and their progress.
Up until recently, aligners were a viable option for a limited category of patients, mainly adults. Recent advances have changed that. Aligners now include tiny "power ridges" that enable them to move teeth in more than one plane, something previous versions were unable to do. "Eruption tabs" can also be incorporated into aligner sets to hold the space for permanent teeth that haven't erupted yet — a must for many younger patients. We can also temporarily bond attachments to the teeth known as buttons (made with a composite that blends in with the natural tooth color) that give more leverage and stability to the aligner.
With these changes, clear aligners are now an effective choice for a wider group of patients, including many teens. Aligners are comfortable to wear, easy to care for, and for teens acutely conscious of their appearance, less obtrusive than traditional metal braces.
If you would like more information on clear aligners, please contact us or schedule an appointment for a consultation. You can also learn more about this topic by reading the Dear Doctor magazine article "Clear Aligners for Teens."
By James E. Eash, D.D.S.
August 23, 2012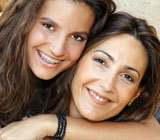 If you are planning orthodontic treatment for yourself or your child, you may have heard about different types of orthodontic appliances (braces) and you may be wondering which type is best for you.
Orthodontic treatment is the process used to improve the positioning of your teeth and bite so that you look better and your teeth function properly. Movement of the teeth is accomplished by harnessing the natural regenerative powers of the body to remodel living tissue, in this case, the bone, which adapts to the new position into which the teeth are moved. Orthodontic appliances accomplish the movement by placing small light and constant forces on the teeth to move them into new and better positions.
There are currently three main types of orthodontic appliances to move your teeth. After careful analysis of your bite and needs, we can help you select the best option for your particular situation.
Fixed appliances, commonly known as braces, so-called because they are fixed to the teeth thereby bracing them together, small brackets are bonded to the teeth and light flexible wires are threaded through them. Controlled tension on these wires pulls or pushes the teeth into position.
Clear brackets are a second, more aesthetic type of fixed appliance. While they are less visible, they tend to be more fragile.
Use of fixed appliances, whether brackets are metal or clear, is usually recommended in more complex cases because they enable the orthodontist to accomplish more complex three-dimensional tooth movements in the most efficient and predictable manner. Please note that, during treatment, you should avoid eating hard foods or participating in extreme contact sports so you will not damage your teeth or the appliances.
Clear aligners are a third, more recent option for repositioning teeth. They are removable appliances, generally used in situations that are milder in nature and easier to correct. After careful assessment, a series of computer-generated, custom made clear plastic trays are made to move the mal-aligned teeth. Tooth movement is progressive with each successive aligner or tray, moving the teeth minutely, until the new desired position(s) is achieved. Clear aligners are usually used for simpler or tipping movements of teeth.
With any of these options, simple movements of teeth may take a few months, and more complex movements take up to two or three years.
Orthodontic treatment is an ingenious scientific discovery that has allowed the dental profession to accurately and precisely move teeth for improved aesthetic appearance and functional position. Contact us today to schedule an appointment or to discuss your questions about orthodontics. You can also learn more by reading the Dear Doctor magazine article "The Magic of Orthodontics."