Posts for tag: bridgework
By James E. Eash, D.D.S.
April 28, 2014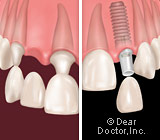 When a natural tooth can't be preserved, it is important to have it replaced as soon as possible. Presently, there are two excellent tooth-replacement systems in wide use: traditional bridgework and high-tech dental implants. What's the difference between the two methods?
Essentially, it comes down to how the replacement tooth is secured in the mouth. In the dental implant system, a natural looking prosthetic tooth is solidly anchored in place by a screw-like titanium implant. This is inserted directly into the bone of the jaw in a minor surgical procedure, and over a short period of time (usually 6 – 12 weeks) its titanium metal structure will actually become fused with the living bone.
With bridgework, however, the support for the prosthetic tooth (or teeth) comes from the healthy teeth adjacent to it. These teeth must be prepared (shaped) by carefully removing some of the outer tooth material (enamel and some dentin), which enables them to be fitted with coverings called crowns or caps. Crowns are often used on their own, to restore teeth that are missing too much of their structure to be treated effectively with standard fillings. But the bridgework system goes one step further.
Instead of making individual crowns for each tooth, a dental lab will fabricate a bridge — a single unit consisting of crowns for the prepared teeth, plus complete prosthetics to replace the missing tooth (or teeth). A three-unit bridge, for example, consists of one complete prosthetic tooth to replace the one that's missing, plus two crowns for the adjacent "abutment" teeth. It's possible to have larger bridges as well: For example, a six-unit bridge might consist of two complete prosthetic teeth in the center, with two crowns for abutment teeth on each end, all linked together in one piece.
While bridgework has been used effectively for decades, it is now being gradually supplanted by dental implants. Implants don't require the removal of healthy tooth material from abutment teeth, and they don't place extra stress on those teeth; plus, they generally last much longer than natural tooth bridges. However, the dental bridge remains a viable alternative for tooth replacement in many circumstances.
If you would like more information about dental bridgework, please call our office to arrange a consultation. You can learn more in the Dear Doctor magazine article "Crowns & Bridgework."
By James E. Eash, D.D.S.
April 25, 2014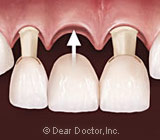 When a tooth is lost, it's important to restore your mouth to its proper function and appearance with a permanent replacement, such as a dental implant or a bridge. Recently, the implant system has received the lion's share of attention (for some good reasons); however, in certain situations, dental bridgework offers a viable alternative. What would cause one method to be favored over the other?
In general, implants are now considered the gold standard for tooth replacement. They have the highest success rate (over 95 percent), last the longest (quite possibly the rest of your life), and don't affect the integrity of adjacent teeth. Bridges, by contrast, require the removal of tooth structure from adjacent teeth, which can potentially compromise their health. Yet implants aren't necessarily ideal for every situation. When might a bridge be preferred?
Some people don't have the proper quantity or quality of bone in the jaw to support an implant; or, they may have anatomical structures (nerves or sinuses) located where they would interfere with an implant. It is possible in some cases to work around these obstacles with bone grafts, or by placing implants in alternate locations; in other cases, a bridge may be a better option.
While most tolerate the implant process quite well, a few people aren't good candidates for the surgical procedure required to place an implant. Certain systemic diseases (uncontrolled diabetes, for example), the use of particular medications, or a compromised immune system may make even minor surgery an unacceptable risk. In these cases, a decision may be made after consulting with an individual's other health care providers. Additionally, a few behaviors or lifestyle issues, like heavy smoking or a teeth-grinding habit, tend to make implants have a less favorable success rate.
There are also a few circumstances that could argue in favor of a bridge — for example, if you already have a need for crowns on the teeth adjacent to the gap, it can make the process of getting bridgework easier and more economical. Financial issues are often an important consideration in planning treatment — but it's important to remember that while bridges are generally less expensive than implants in the short term, the much longer expected life of implants can make them more cost-effective in the long run.
If you have questions about dental implants or bridgework for tooth replacement, please call our office to arrange a consultation. You can learn more in the Dear Doctor magazine article "Crowns & Bridgework."
By James E. Eash, D.D.S.
November 08, 2012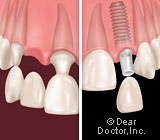 When it comes to replacing missing teeth, we have numerous options. However, two of the most common treatment options include bridgework and dental implants. See how much you really know about dental implants and bridgework by taking our quick and easy true/false self test.
When it comes to costs, dental implants may initially cost more than bridgework but are less expensive than bridgework over a lifetime.
True or False
Both bridgework and dental implants can last a lifetime when properly maintained.
True or False
Prior to placing a three-unit fixed bridge, if the surrounding teeth have crowns, they must be redone so that the bridge fits and wears properly.
True or False
Replacing a single tooth with a three-unit bridge, requires removing the enamel on the adjacent teeth even if these teeth are disease-free.
True or False
In addition to being permanent tooth replacements, another advantage of dental implants is that they don't decay like teeth supporting bridgework.
True or False
It is not uncommon for root canal treatment to be required to save teeth that support bridgework if they have been subjected to severe decay and their nerves become infected.
True or False
Placing a dental implant requires more time when compared to placing a three-unit bridge.
True or False
Both bridgework and dental implants require minor surgery to replace a missing tooth.
True or False
Dental implants are more desirable than bridgework because placing them does not affect the adjacent teeth.
True or False
Studies indicate that bridges are only 67% successful at 15 years whereas dental implants have success rates into the 90s.
True or False
Answers: 1) True. This fact shocks many people. 2) False. This is more commonly true for dental implants. 3) True. 4) True. This is one of the disadvantages of bridgework. 5) True. This is just one of the advantages of a dental implant. 6) True. 7) True. 8) False. Dental implants require surgery to be placed. 9) True. This fact is a significant advantage for dental implants. 10) True. Your results may vary; however, this statistic represents what you might expect.
To learn more, continue reading the Dear Doctor magazine article "Implants vs. Bridgework." Or, you can contact us today to schedule an appointment or to discuss your questions.