Posts for tag: dental injuries
By James E. Eash, D.D.S.
December 15, 2016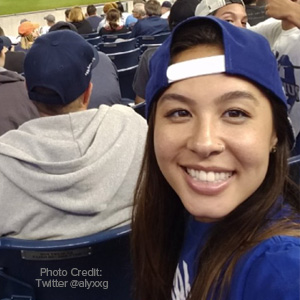 When your favorite baseball team wins, it's hard not to get excited — especially if you're right there in the stadium. It's even better when a player tosses the ball to fans. But sometimes, in the heat of the moment, things can go awry.
That's what happened during a recent game at New York's Yankee Stadium. After catching the ball that ended the game in an 8-2 Dodgers win, Los Angeles outfielder Yasiel Puig tossed it into a cheering crowd of supporters. "I saw it coming at me and I remember thinking, 'I don't have a glove to catch this ball,'" Dodgers fan Alyssa Gerharter told the New York Daily News. "I felt it hit me and I could feel immediately with my tongue there's a hole. And I looked down at my hand and saw there's a tooth in my hand."
Ouch. Just like that, one fan's dream became… a not-so-good dream. But fortunately for the 25-year-old software engineer, things went uphill from there. Ushers quickly escorted her into a first-aid room at the stadium. She was then rushed to a nearby hospital, where the upper front tooth was re-inserted into her jaw. After a follow-up appointment at her dentist's office the next day, Gerharter said she remains hopeful the re-inserted tooth will fuse with the bone, and won't require replacement.
We hope so too. And in fact, she has as good a chance of a successful outcome as anyone, because she did everything right. If you're not sure what to do about a knocked-out tooth, here are the basics:
locate the tooth, handle it carefully (don't touch the root surface), and if possible gently clean it with water
try to open the person's mouth and find the place where the tooth came from
carefully re-insert the tooth in its socket if possible, making sure it is facing the right way
hold the tooth in place with a soft cloth as you rush to the dental office or the nearest urgent care facility
if it can't be replaced in its socket, place the tooth in a special preservative solution or milk, or have the person hold it between the cheek and gum (making sure they won't swallow it) — and then seek immediate care at the dental office
follow up at the dental office as recommended
In general, the quicker you perform these steps, the more likely it is that the tooth can be preserved. How quick is quick? The best outcomes are expected when re-implantation occurs in no more than five minutes. So if you're in this situation, don't wait: get (or give) appropriate first aid right away — it just might save a tooth!
If you would like more information about what to do in a dental emergency, contact us or schedule an appointment for a consultation. You can learn more the Dear Doctor articles "Knocked Out Tooth," and "The Field-Side Guide to Dental Injuries."
By James E. Eash, D.D.S.
April 20, 2013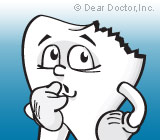 Your son has fallen and hit his face against a hard surface. Not only is he in pain but now there is also a chip missing from his front tooth. He is worried that his smile will never be the same. What should you do?
Answer: If you can find that missing chip, sometimes we can bond the fragment back on to the tooth. The tooth should be evaluated and repaired as soon as possible, although in the absence of other signs and symptoms of injury, and if your child is not in acute pain, it can probably wait up to 12 hours.
If the fragment can't be found, then the tooth can be restored with tooth-colored filling materials, which are also physically bonded to the natural tooth. Done well, these "composite resin" fillings can last for years and look perfectly natural. They may eventually need to be replaced with something more permanent.
If the chipped tooth is a child's primary (baby) tooth rather than a permanent (adult) tooth, the treatment will be similar.
However, a blow to a tooth can cause damage to the pulp — the living tissue within the tooth, which can become infected and die. If the damage to a primary tooth is too extensive it may be better to remove it to avoid damage to an underlying and developing permanent tooth. A place-holding appliance called a space maintainer may be used. If it is a permanent tooth it may need root canal treatment.
If a tooth is not chipped but is loosened or tender to the touch, it may require temporary stabilization, called splinting, until it has healed. Sometimes no treatment is required. If there has been a fracture to the tooth's root (the part below the gum line) it may heal by itself, or it may require further treatment especially if it is a permanent tooth, depending on the individual situation.
It is important to evaluate teeth that have been hit or damaged as a result of injury to ensure that they remain healthy and functional. We will keep track of the tooth or teeth, with observation, x-rays when necessary and monitoring over time to make sure no permanent damage has been done.
Contact us today to schedule an appointment or to discuss your questions about repairing a chipped tooth. You can also learn more by reading the Dear Doctor magazine article "The Field-Side Guide to Dental Injuries."
By James E. Eash, D.D.S.
January 31, 2012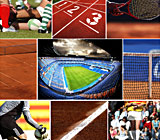 No one participates in sports or recreational activities with the goal of oral or facial injury. However, the facts reveal two things: sports injuries are the number one cause, impacting thousands of adults and children annually and many of them can be prevented or at least minimized with education and the use of a properly fitted professional mouthguard.
In addition to the obvious negative of the physical injury to the mouth and face, oral-facial injuries can also be both emotional and psychological. And while these injuries can occur due to a multitude of reasons, a recent study found that approximately 25% occur while playing sports. The following poignant facts should raise your awareness of dental injuries.
Did you know…?
On average, 22,000 dental injuries occur annually in children under the age of 18.
Outdoor activities and products are associated with the largest number of dental injuries to baby (primary) teeth in children aged 7 to 12 with 50% of these incidents related to bicycle accidents.
Outdoor activities and products are also associated with the largest number of dental injuries to permanent teeth in adolescents aged 13 to 17.
Of all sports, baseball and basketball consistently produce the largest number of dental injuries each year.
Over 80% of all dental injuries involve the upper front teeth.
Age, gender, condition and position of the teeth, as well as the type of sport being played are all key risk factors associated with the likelihood of experiencing a sports injury.
Studies show that teenage boys involved in contact sports, collision sports, and high-velocity non-contact sports are at the highest risks for dental injuries.
Young girls are starting to participate in many of these same sports, and thus their risks for injuries are climbing.
Home furniture is the main culprit in over 50% of the dental injuries in children under the age of 7.
We encourage you to take a moment to assess your own as well as your family's risk of dental injury and to think about how you can treat and prevent them. To learn more, read the Dear Doctor article, "An Introduction To Sports Injuries & Dentistry." Or, feel free to contact us to discuss your questions or to schedule a consultation.