Posts for tag: periodontal (gum) disease
By James E. Eash, D.D.S.
October 02, 2016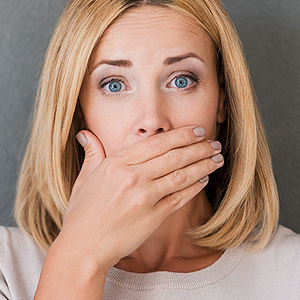 There's a lot of emphasis — well-placed, of course — on preventing and treating tooth decay. But there's another dental disease just as dangerous to your oral health and nearly half of U.S. adults have it. It's actually a group of diseases known collectively as periodontal (gum) disease.
Gum disease is similar to tooth decay in one respect: they're both triggered by bacteria. These microorganisms thrive in a thin film of food particles called plaque that collects on tooth surfaces.
Certain bacteria can infect gum tissues and trigger inflammation, a response from the body's immune system to fight it. As the battle rages, bone loss can occur and the gums weaken and begin to detach from the teeth. Without treatment, you could eventually lose affected teeth.
Like tooth decay, the best approach with gum disease is to prevent it, and by using the same techniques of daily brushing and flossing. These actions loosen and remove plaque built up since your last brushing. It's also important you visit us at least twice a year for cleanings that remove hard to reach plaque and calculus (hardened plaque deposits).
If despite your best efforts you do contract gum disease, the sooner you see us for treatment the lower the long-term impact on your health. The treatment aim is the same as your daily hygiene: to remove plaque and calculus. We use specialized hand instruments or ultrasound equipment to mechanically remove plaque; more advanced cases may require the skills of a periodontist who specializes in caring for structures like the gums that support teeth.
So, defend yourself against gum disease by brushing and flossing daily, and visiting us regularly for dental cleanings and checkups. If you notice bleeding, swollen or painful gums, see us as soon as possible for diagnosis and treatment. Don't let tooth decay's evil twin ruin your oral health or your smile.
If you would like more information on the prevention and treatment of gum disease, please contact us or schedule an appointment for a consultation. You can also learn more about this topic by reading the Dear Doctor magazine article "When to See a Periodontist."
By James E. Eash, D.D.S.
January 07, 2013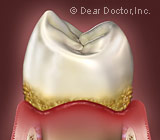 Since the dawn of man, periodontal (gum) disease has impacted humans. And while dental health has dramatically improved over the generations, the facts are still clear — millions of Americans are suffering from gum disease and probably do not even know that they have a problem. This is because periodontal disease most often starts without any symptoms or ones that most people tend to discount or ignore.
Stage 1: Gingivitis. The first stage of gum disease is inflammation of the gingiva (gums) without bone loss. While nearly all people will develop gingivitis in the absence of good oral hygiene, only 10 to 15% of them will go on to develop more advanced stages of the disease.
Stage 2: Early periodontitis. With this stage, gingivitis progresses into the deeper periodontal structures — the tissues that attach the teeth to the bone resulting in early or beginning bone loss. About 10% of the population develops full-blown periodontitis with progressive bone loss.
Stage 3: Moderate periodontitis. The third stage of gum disease results in moderate bone loss (20 to 50%) of root surfaces of the teeth due to continued destruction of the surrounding tissues and bone. Periodontal disease is "cyclical" — it goes in cycles with bursts of activity, followed by a period in which the body tries to recover. This is called chronic inflammation, or frustrated healing.
Stage 4: Advanced periodontitis. With the final stage of gum disease, there is severe bone loss (50 to 85%) from the tooth's root. This stage includes looseness of teeth, moving teeth, abscess formation with red, swollen and painful gums. The end results — eating and even smiling is difficult and uncomfortable, and you could lose all your teeth.
You can learn more about gum disease in the Dear Doctor article, "Understanding Gum Disease."
Have We Described Your Mouth?
If any of the above stages sounds like we are talking about your mouth, contact us today to schedule a consultation, discuss your questions and receive a thorough exam. If addressed promptly and with commitment to following your treatment plan, your mouth can return to good oral health.
By James E. Eash, D.D.S.
September 18, 2012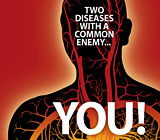 Both diabetes and gum (periodontal) disease are chronic inflammatory diseases that have negative consequences for millions of people worldwide. But before we continue, let's define these two diseases:
Periodontal disease is a condition in which biofilms of dental bacterial plaque stick to teeth near the gum lines causing the gum tissues to become inflamed and infected. If not treated properly and in an early stage, it can cause severe damage to the bone that supports the teeth, resulting in tooth loss. It occurs in the absence of good oral hygiene which includes ineffective daily brushing and flossing and neglecting to see your dentist.
Diabetes is a chronic condition in which blood glucose (sugar) levels become excessive. Glucose is the body's main source of sugar for energy. The hormone insulin, among other mechanisms, normally controls glucose. Prolonged elevated blood sugar levels are harmful and ultimately can even be life threatening if left untreated. With type 1 diabetes, insulin injections (shots) are required to maintain the proper blood sugar levels because the body no longer produces its own blood sugar. Type 2 diabetes is generally less severe and can usually be treated with a combination of diet and medication.
And while both of these diseases share the same common enemy, you, there is scientific evidence revealing links between the two. Diabetes increases the risk factor for developing periodontitis, and conversely, periodontal disease makes it more difficult for diabetics to control blood glucose levels.
Want To Learn More?
Learn more about these two diseases and their relationship by reading, "Diabetes & Periodontal Disease." Or if you have diabetes but haven't had a dental exam and cleaning in a long time, contact us today to schedule a consultation. You can also use this consultation to discuss any questions or concerns you have about your oral health and its relationship to your diabetes.